Heat Pump Service in Des Moines
While there are many options available for heating your Des Moines area home, one of the most energy-efficient and cost effective methods is a heat pump. With the advancements of technology in recent years, it has made it possible to heat your home via a heat pump 99% of the time. This means you can save money while heating your home.
If you are ready to have a heat pump installed, looking for maintenance to your current heat pump, or just have questions then give us a call at Greens Appliance, Heating & Cooling. Our technicians are on call 24/7 to assist with any emergency heat pump issues you might have and can answer any questions you might have about installing a new heat pump in your home.
Heat Pump Installation & Replacement Services
The HVAC technicians at Greens Appliance, Heating & Cooling are experienced in the installation and replacement of heat pumps. We have the tools and the knowledge to help pick the best heat pump for your home. We are also available to troubleshoot any problems that come up and have your heating system up and running as quickly as we can.
Our technicians will first help determine the best heat pump for installation in your Des Moines area home. We do this by measuring the amount of heated space within your home. This square footage measurement helps determine the right heat pump to adequately heat your whole home as evenly and efficiently as possible. By ensuring that we accurately measure your home's heating areas we can help match your home with the best heat pump. When this is not done by a trained heating technician, this can result in your system cycling on and off too frequently which then increases your energy bill. The technician will also inspect the existing ductwork and air handler. From there we determine which SEER rating will be the most efficient option.
Heat pump installation and replacements can be scheduled by giving Greens Appliance, Heating & Cooling a call.
Des Moines Area Heat Pump Maintenance
A heat pump is a major investment both financially and comfort-wise. Protect this investment with regular heat pump maintenance. Our heating technicians in the Des Moines area are trained to inspect heat pumps and will ensure that your heat pump is ready for those cold winter months. We recommend this service is done once a year and typically before your heating system is turned on for the year to help ensure it's running as it should as you don't want to put any unnecessary pressure on your heat pump if it's not running properly. Regular maintenance will help extend the life of your heat pump and help keep your family safe by ensuring that the heat pump is functioning properly.
Emergency Heat Pump Repairs
Heat pumps have many moving parts and get a lot of wear and tear over the cold winter months. Even with regular maintenance, the amount of use that heat pumps get, they can break-down or need repairs. Our technicians can test your heating system and determine any possible problems that are causing it to malfunction. We will fix any issues and get your heating system up and running. We offer emergency heating repair services so no matter what time it is, our technicians are available for emergency heat pump repairs in the Des Moines area.
Give Greens Appliance, Heating & Cooling a call today for all your heat pump repair and installation needs.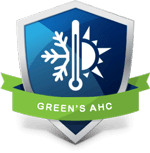 Financing Options Available
At Greens, we understand how important a functioning HVAC system is for your home. This is why we offer flexible financing options to help you take care of your new HVAC purchase, so you can get back to taking care of what matters most to you.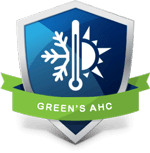 A well-maintained HVAC system can save you from having to invest in costly repairs down the road. Learn more about the priority maintenance services offered by Greens Appliance, Heating & Cooling.