Heating System Services in Des Moines
Greens Appliance, Heating & Cooling specializes in the repair and installation of heating systems in Des Moines and surrounding areas. Our team can guide you in choosing the appropriate heating equipment and ensure its high-quality installation. Contact us by phone or schedule a consultation online today to discuss replacement heaters, heater maintenance, or heating repair services.
Determining the Need for a New Heater
Deciding to install a new heating system is a significant step. So how can you discern when the time is right? Key indicators could include frequently needing repairs for your current system or a noticeable decrease in its performance. Modern heating systems available in the market today are efficient enough to regulate your home's temperature and humidity, potentially leading to savings on your utility bill.
Heater Installation and Replacement in Des Moines
Once you've determined it's time to replace your old heater, contact our heating technicians to arrange a consultation for a replacement heater and schedule an installation. Our seasoned technicians are prepared to assist with any heating-related inquiries you may have. We offer services throughout Des Moines and its surrounding areas.
After installing a new heating system, it's vital to establish a heating maintenance plan. This allows your system to be fine-tuned in preparation for the heating season. Preventative maintenance plans can be tailored to your specific requirements and depend on the particular furnace or heat pump you possess. Maintenance plans typically involve scheduled visits at least once a year and can encompass tune-ups, warranty service calls, and coil cleaning.
Des Moines Heating Repair and Emergency Heater Service
Despite regular maintenance, heaters can still malfunction. Should your heating system fail during a particularly cold period, immediate assistance is necessary. We offer emergency heating repair in the Des Moines area to rectify your heating system promptly. If something seems off with your heater, don't hesitate to call our team to schedule a repair.
Greens Appliance, Heating & Cooling is your go-to company when it's time to replace your heating system or for scheduled maintenance and repairs. We provide 24/7 heating services and cater to the entire Des Moines area.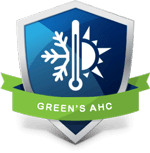 Financing Options Available
At Greens, we understand how important a functioning HVAC system is for your home. This is why we offer flexible financing options to help you take care of your new HVAC purchase, so you can get back to taking care of what matters most to you.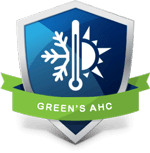 A well-maintained HVAC system can save you from having to invest in costly repairs down the road. Learn more about the priority maintenance services offered by Greens Appliance, Heating & Cooling.