Indoor Air Quality Services in Des Moines
Air purification and indoor air quality (or IAQ) in Des Moines, IA and the surrounding area is a concern for many homeowners.
Our Des Moines, IA indoor air quality specialists offer a number of services to identify the source of low indoor air quality. Contact us to learn more about the indoor air quality services we offer to our customers.
Indoor Air Quality Upgrades
If you are ready for an upgrade to your or indoor air quality we offer installation services for a number of systems including air filtration, UV germicidal lights, energy recovery ventilators, humidifiers and dehumidifiers, and more. With the right combination of systems designed to remove various forms of allergens and contaminants, you'll never again need to worry about low-quality indoor air.
The right system will do three things. It will remove larger contaminants that trigger allergies and asthma symptoms, it will remove smaller particles, and it will ventilate air effectively without it costing a fortune in added energy costs.
That's what we can promise you – the peace of mind knowing that your Des Moines, IA indoor air quality is as clean as possible for every member of your family and that it in no way affects what you pay each month for gas or electricity
Call the Air Purification and Indoor Air Quality Experts
If you live in the Des Moines, IA area and are ready to have a major upgrade performed on your indoor air quality system or if you have an existing system and you need maintenance or repair work done on it, now is the time to call Greens Appliance, Heating & Cooling.
From installing air filtration systems, to performing mold testing, we provide expert service, highly trained technicians and a commitment to excellence that few can match.
Call today to learn more.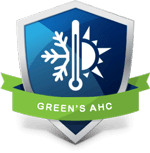 Financing Options Available
At Greens, we understand how important a functioning HVAC system is for your home. This is why we offer flexible financing options to help you take care of your new HVAC purchase, so you can get back to taking care of what matters most to you.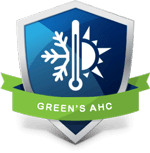 A well-maintained HVAC system can save you from having to invest in costly repairs down the road. Learn more about the priority maintenance services offered by Greens Appliance, Heating & Cooling.