Air Conditioning Repairs in Des Moines
Our roots can be traced all the way back to 1958, when Harold Green began repairing appliances in his garage. In a short time, he grew it into one of the leading service companies in Des Moines.
At Greens Appliance, Heating & Cooling, we provide the best air conditioning repair, replacement, and maintenance services in Des Moines and the surrounding areas. As your home's cooling provider, we ensure that your home remains comfortable during the summer months.
Signs You're in Need of AC Repair in Des Moines
If your air conditioner has stopped working, you should contact our HVAC professionals immediately. Watching for early warning signs can, however, often save you from a total breakdown.
Some of these include:
During startup or while your unit is running, you hear strange noises.
Water leaks in or around your air conditioner.
Increased electricity bills without explanation.
Not maintaining a comfortable temperature in your home even when your air conditioner is in operating mode.
Older air conditioners are more prone to malfunctions. It might be worth an inspection if it's over ten years old.
In the event that you contact us regarding any of the above, we will schedule a convenient time for an appointment and we will diagnose the problem as quickly as possible. Whatever the job, we provide options for our customers. We won't sell you anything that you don't need. With our help, you can be sure that you will be provided with a solution that is cost-effective and meets your cooling requirements.
Air Conditioner Maintenance and Tune-ups
Maintain your AC system regularly by scheduling maintenance tune-ups. To ensure optimal performance, air conditioners need frequent inspections. By scheduling regular maintenance, your technician is able to address minor issues that may have surfaced since the last visit. By identifying and resolving these minor issues quickly, you are saving money in the long run and prolonging the life of your AC system.
Get in touch with us for more information about the types of air conditioner maintenance we offer, including:
Detailed inspection of AC unit
Accuracy testing of the air conditioning system
Verification of tight electrical connections
Inspection of the condensate drain for potential issues
Cleaning of coils and filters
Lubrication and testing of the blower fan motor
Having your air conditioner tuned up and maintained on a regular basis will help it operate smoothly and be ready for the hot Des Moines summer months.
Our Comprehensive List of AC Services
Keeping comfortable in Des Moines requires a good air conditioner. Your air conditioner should be reliable, sufficiently sized for your home, and well maintained so that it continues to function like it did when you purchased it. All these reasons make Greens Appliance, Heating & Cooling your best choice for air conditioning. As part of our air-conditioning services, we provide:
Give Greens Appliance, Heating & Cooling a call now. When it comes to AC repair in Des Moines, our technicians are ready to assist you.
Why Choose Us for AC Repair in Des Moines
Over the years, Greens has earned the trust and loyalty of thousands of customers and contractors alike. Since Harold Green started the business, customer care has been our top priority. Our focus at Greens is on offering personalized service to every customer.
In addition to being highly trained and licensed through the state of Iowa, our technicians hold themselves to high standards of professionalism. We are insured, bonded, NATE-certified, available 24/7, and have an excellent rating with the Better Business Bureau.
We can't wait to assist and restore your home comfort!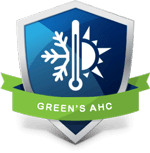 Financing Options Available
At Greens, we understand how important a functioning HVAC system is for your home. This is why we offer flexible financing options to help you take care of your new HVAC purchase, so you can get back to taking care of what matters most to you.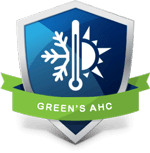 A well-maintained HVAC system can save you from having to invest in costly repairs down the road. Learn more about the priority maintenance services offered by Greens Appliance, Heating & Cooling.